Your account may have extra tools enabled that help you manage the data you receive from your customers. These tools operate independent from customer accounts and can be used ad hoc.
Document Conversion
The document conversion tool helps you convert ad hoc financial documents such as balance sheets, income statements, payroll reports and tax transcripts from PDF files in to more usable formats such as Excel.
The document conversion tool is found under the tools menu if enabled on your account.
You can find a video demonstration of a Financials PDF document conversion at the bottom of this page.

To use the document conversion tool follow these steps:
Select the tab representing the information you are looking to convert: Payroll, Accounting/Banking, Tax

Select additional options specific to the information type, in the case of payroll it is the payroll provider that created the report you need to convert

Click the file upload widget or drag and drop files to convert. A progress bar will be shown indicating upload and conversion progress, it may take several minutes to convert lengthy documents.

Completed documents will be shown in the Conversion Status table on the right side of the page indicating whether the document was successfully converted.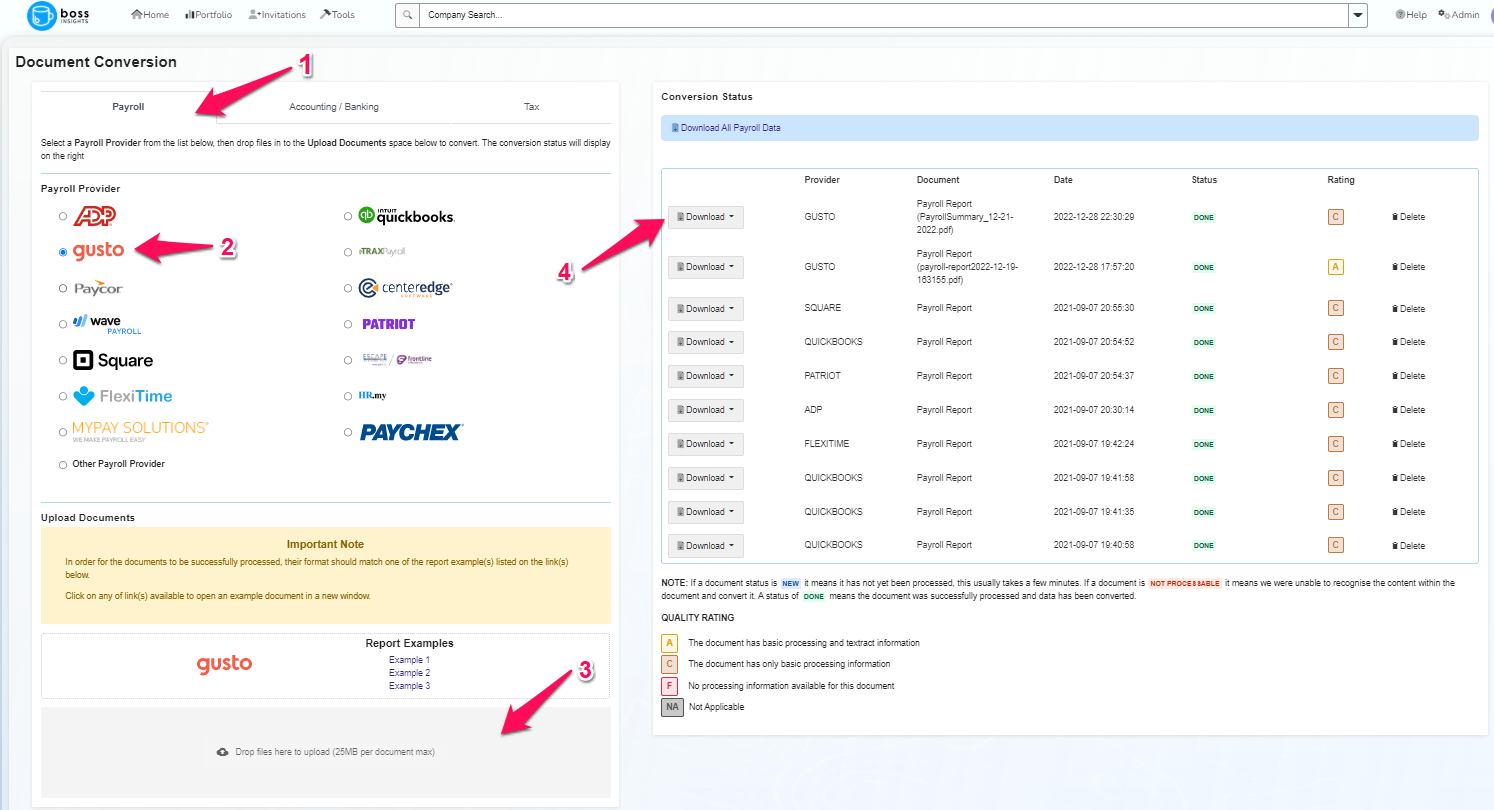 The following statuses are shown for each converted document:
NEW - A new document has been added to the conversion queue and will be converted usually within minutes.

PARSING , PROCESSING - The document is actively being converted and will typically take between several seconds to several minutes to complete depending on length and complexity.

NOT PROCESSABLE - We were unable to recognize enough parts of the document to extract useful data.

DONE - The document was recognized and data is available to download
Our system learns from each document to improve its recognition capabilities, in addition our development team adds new and improved algorithms to increase the ability of the system to process more document types. If an update is made to the system that enables us to process a document we will do so and notify you when complete
If a document stays in new, parsing or processing status for longer than an hour it indicates the document conversion system is undergoing maintenance and updates. Conversion will resume when the system becomes available again. If a document appears stuck in this status for a long time please reach out to our help desk
With your documents now converted you can select the download button beside each document and choose to download the Source document, which is the original PDF file that was uploaded or one of the other options (which differ depending on document type) such as Excel (Data).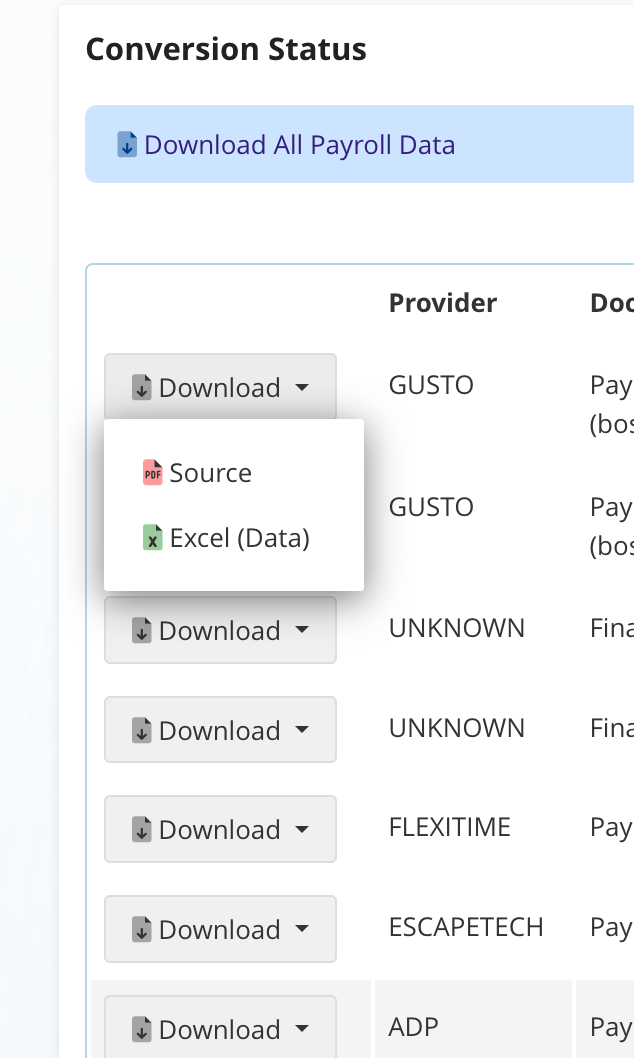 Additionally, after a document is converted, a quality rating is given to the final result of some of the documents processed. The ratings are laid out in the Ratings column like in the screenshot below.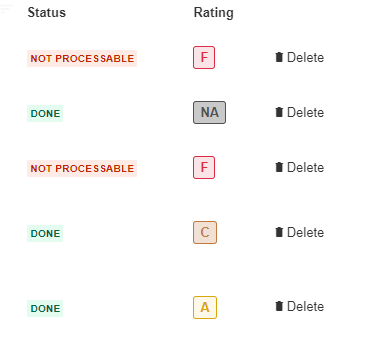 "A" rating means the document has both basic processing and extract information;
"C" rating means document has only basic processing information;
"F" rating means there is no processing information available for this document;
"NA" means a rating is not applicable to this type of document if the status is DONE or if the document is still being processed.
Video Of Financials PDF To Excel Conversion
You may watch this video to see a demonstration of how to convert a Financials PDF into Excel or JSON.