On this page, we'll show you how to use our new Secure Mail feature.
Contents
What is Secure Mail?

How to use Secure Mail

How do I know if I have a new message in Secure Mail?
What is Secure Mail?
We've created Secure Mail to enable lenders and borrowers to communicate with each other without leaving our platform. Secure Mail eliminates the need to communicate with your customers using email, which may be less secure. Secure Mail also reduces processing times because with only one click, you can send a message to your customers. Most importantly, all messages related to the application will be in one place.
With Secure Mail, communicating with your customers will not feel like finding a needle in a haystack anymore.
How to use Secure Mail
The experience is similar for both lenders and borrowers.
1) In the side navigation menu, select a borrower using the "Insight" dropdown, then click "Secure Mail".
2) Type your message inside the box.
3) Click "Send". Easy as 1-2-3!
You have now sent a message to your borrower via Secure Mail. They will be able to reply using the same method.
You can also copy and paste text into the textbox.
The recipient will be notified each time you send a message (1 enter = 1 email notification). You can compose a message with multiple lines by clicking "enter" on your keyboard (works like email).
How do I know if I have a new message in Secure Mail?
The recipient will receive an e-mail letting them know that they have a message in Secure Mail. For enhanced security, the recipient will need to be logged in to their portal to view the message. Here's what the email looks like:
The header logo displayed will be that of your organization, not Boss Insights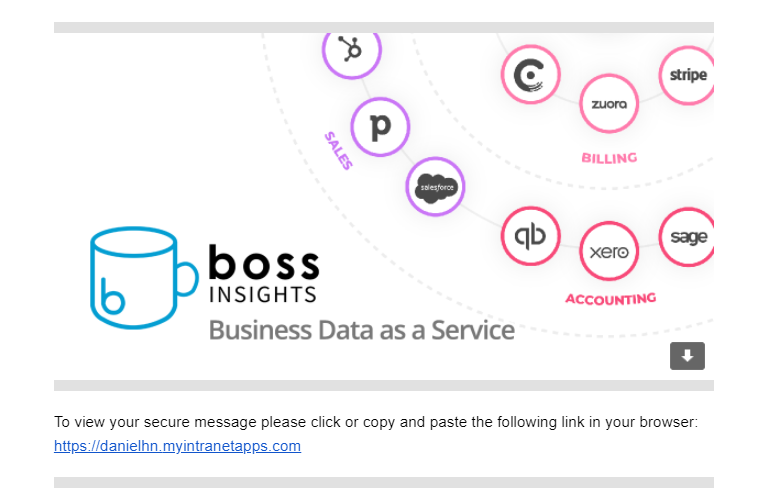 Secure Mail notifies recipients periodically and is not a real-time chat system
You will not be able to send files using Secure Mail.
Only matters related to this application should be discussed using the Secure Mail.
Files, Forms, Cloud Connections, and other sensitive information should be sent or connected using the portal. Do not share or request for passwords or other identification numbers using Secure Mail.
Related articles